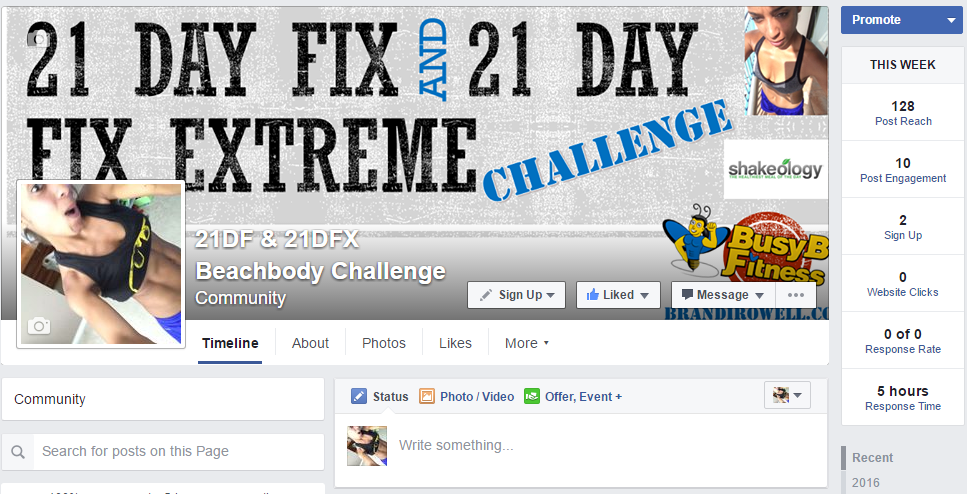 21 Day Fix Challenge Group
Ok so you either just purchased 21 Day Fix or you're thinking about buying it, either way you have one problem. None of your friends or family is interested is doing the 21 Day Fix workouts and with your hectic schedule PLUS current state of mind, it is likely you will not workout everyday without a group of people to encourage you. So how can you join a 21 day fix challenge group?
Not to worry because this is your lucky day! In fact, about two years ago I was in your shoes. I was thinking about joining Team Beachbody as a coach, I had already purchased 21 Day Fix, but my husband had no desire to do it with me. For a while the program sat on the shelf until one day I found a small support group on Facebook.
I was amazed on how easy it was to complete the workouts when I was able to interact with a group of other people trying to reach the same goal. Since that time, I realized there has to be other people out there feeling the exact same way. Therefore I created an official 21 Day Fix Challenge Group. I run challenges at least twice a month and even though the workout never changes, the group of people participating do.
It is so refreshing seeing people start of barley posting in the group or shy about showing their before pictures and by the 2nd or 3rd week seeing them completely transform and blossom out of their shells.
How To Join The 21 Day Fix Challenge Group?
Ok, so you're interested in joining my 21 Day Fix Facebook Challenge group, what do you need to do to get in? It is pretty simple. Here are the steps below (MUST BE COMPLETED IN ORDER).
Sign Up To Add Me As Your Beachbody Coach
Purchase A 21 Day Fix Extreme Challenge Pack Through My Special Link (Includes 21 Day Fix and Shakeology)
Join The Group (upcoming challenge)
So what if I already own 21 Day Fix? If you already own 21 Day Fix you are welcome core 21 Day Fix Challenge group, but the ongoing (scheduled) challenge groups are only for people that follow the steps above.
What Results Can I Expect From Your 21 Day Fix Or 21 Day Fix Extreme Challenge Group?
People (men and women) that have previously participated in my challenge groups have noticed AMAZING results. On average participants have lost anywhere from 3-10 lbs, seen massive increases in energy levels, lost several inches off their waist, gained lean muscles and experienced a dramatic boost in confidence.
The best part about my job as a Beachbody coach is, the products and programs literally sell themselves because they actually work. Have you seen some companies that kind of fall into that fly by night category where they are here today and gone tomorrow? Beachbody has been around for 18 years and they are continuing to thrive.
Autumn Calabrese, creator of 21 Day Fix and 21 Day Fix extreme does an outstanding job of teaching you how to breath, stretch and feel the burn! Combine what she teaches with the things you'll learn having me as your coach and you will be blown away at your progress!
I really hope you sign up to purchase your challenge pack and join me in the group!
Until then, this is Coach Brandi signing out. Click here to learn why people love 21 Day Fix So much.